Local Energy Agency of Las Palmas de Gran Canaria
Las Palmas de Gran Canaria Local Agency for Energy Management is a self-governing body of Las Palmas de Gran Canaria city Council created within the framework of the programme Intelligent Energy Europe. The Agency is part of a network of about 300 other local and regional agencies placed in Europe.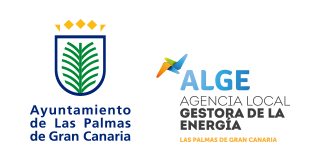 "Energy Efficiency at a Local Level"
Being an instrument for local energy effciency and planning.

Promoting energy saving measures and efficiency and implementing renewable energy sources.

Working towards a more sustainable energy model at a local level.
Planning and implementing local projects to promote a more sustainable energy model.

Providing collaboration and advice for the Energy Management of municipal facilities.

Increasing internal collaboration and coordination within Las Palmas de Gran Canaria City Council, its departments and local public corporations.

Promoting sustainable consumption habits and a responsible use of energy.

Promoting investment in the field of energy efficiency, saving and renewable energy sources.

Monitoring and performing the maintenance of public RES installations.
Developing and implementing actions for the promotion, dissemination and training on energy saving and efficiency and sustainable development.

Collaborating with business associations, SMEs, professional associations and Universities in order to implement a new Energy Education.

Raise awareness among citizens regarding energy resources shortage and the need to a rational use of them.
C/ Farmacéutico Francisco Arencibia Cabrera, nº 30, 35015 • Las Palmas de G.C.

Do you want to share this member's information?