Promoting green public procurement (GPP) in support of the 2020 goals
Project duration: 2013 – 2016
EUROPEAN FINANCING PROGRAM

IEE (Intelligent Energy Europe)
The consortium consists of 17 partners:
ICLEI, BeschA, Ecosistemi, IFZ, FPA, PROVROMA, LNEG, OesteCIM, Umanotera, MF RS, Rijkswaterstaat, NL Agency, UNDP Croatia, Ecoinstitut, DTES, CONSIP, ICAEN.
Mainstream low-carbon procurement across Europe in support of the EU's 20-20-20 goals.
GPP 2020 aimed to mainstream low-carbon procurement across Europe.
To this end, GPP 2020 implemented more than 100 low-carbon tenders, which directly resulted in substantial CO₂ savings.
Moreover, GPP 2020 ran a capacity building programme that included trainings and Exchange in Germany, Austria, Croatia, Slovenia, Spain (Catalonia), Italy, the Netherlands and Portugal.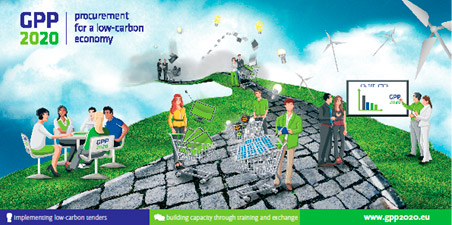 Do you want to share this project?