The project addresses energy saving in public buildings. Through improvement of energy disaggregation mechanisms, individualized energy information will be provided to the building end-user, which will be encouraged to more energy efficiency oriented behavior through a gamified application.
ChArGED addresses the energy consumption in public buildings and proposes a framework that aims to facilitate achieving greater energy efficiency and reductions of wasted energy in public buildings. The framework leverages IoT enabled, low-cost devices (NFC or iBeacons) to improve energy disaggregation mechanisms that provide energy use and -consequently- wastages at the device, area and end user level. These wastages are targeted by a gamified application that feeds personalized real-time recommendations to each individual end user.
The design of the game follows a cleanweb approach and implements a novel social innovation process that is designed based on human inceptives factors and helps users to understand the environmental implications of their actions and adopt a greener, more active and responsible behaviour. The ChArGED solution will be deployed in three pilot buildings with iterative end-users representatives' engagement during analysis, design and development. ICAEN's building will be one the pilot ones.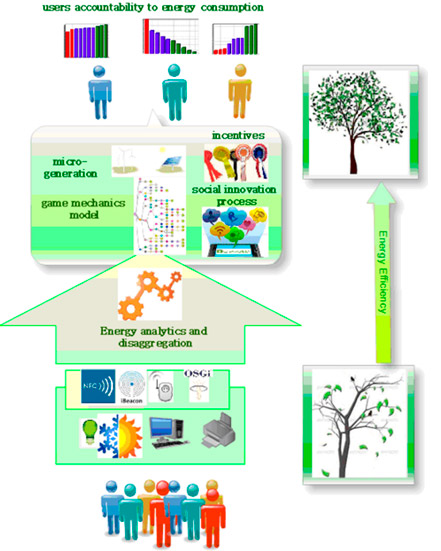 Do you want to share this project?