The consortium consists of 8 partners:
Andalusian Energy Agency; Regional Ministry of Employment, Business and Commerce ( Spain). (Coordinator)
Andalusian Institute of Technology (Spain)
The Public Investment Development Agency of Lithuania, VIPA (Lithuania)
Rzeszow Regional Development Agency (Poland)
Severn Wye Energy Agency (United Kingdom)
North West Croatia Regional Energy Agency (Croatia)
Region Jämtland Härjedalen (Sweden)
Local Energy Agency of Gorenjska (Slovenia)
The BUILD2LC project is based on the promotion of the energy rehabilitation of buildings and the market consolidation of this sector. The project is structured in two phases, one focused on the exchange of experiences and the elaboration of an Action Plan by each consortium's partner; and a second phase consisting of the implementation and follow-up of these Action Plans in the participating regions.
The recent framework strategy of the "Energy Union" of the European Commission indicates that 75% of European households are energy inefficient. There is also great potential for energy savings in public buildings of the EU. The BUILD2LC project will contribute decisively to achieve the EU energy goals, with its overall objective to increase the energy rehabilitation of buildings, and pave the path that facilitates the transit towards the new standard of nZEB buildings.
The key innovative aspect of BUILD2LC is its multidisciplinary approach, that counting on different complementary expertise at local (Gloucestershire County UK, and Gorenjska SI), regional (Andalusia ES, Rzeszow PL, North-West Croatia and Jämtland Region SE) and national (Lithuania) level, will allow achieving the energy goals and a sustainable development of the construction sector, based on improving the competitiveness, generating qualified employment, promoting innovation, and alleviating energy poverty, in line with the European objectives for smart, sustainable and inclusive growth.
The project with a high replicability impact will design innovative financial instruments, adapted to the needs of citizens, new mechanisms that contribute to a more competitive business network, special programmes to support innovation, and innovative collaboration actions, focusing on vulnerable groups. Home-owners, business sector, policy makers, local authorities, knowledge institutes and vulnerable groups will benefit from the project.
The project will develop a complete learning process to facilitate an effective knowledge flow among regions, with a bottom-up approach methodology, counting on the regional stakeholder groups.
More than 70 best practices and almost 70 events involving nearly 400 stakeholders, will establish 7 Regional Action Plans covering a population of more than 15 million inhabitants and improving energy efficiency over 25% at the participating regions.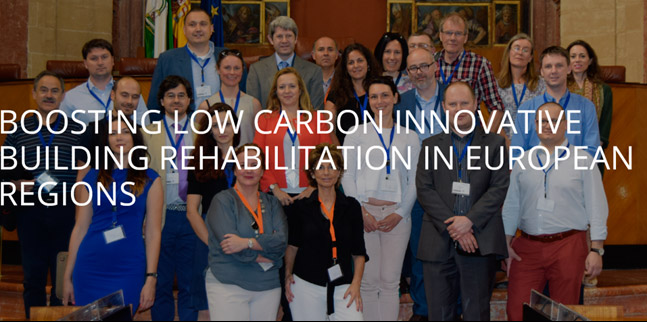 Do you want to share this project?