The EURONET 50/50 MAX starts from the experience gathered in many German schools and from the pilot test carried out in 50 schools in various European countries during 2009‐2012 (Euronet 50/50 project). Now, the new project transfers the 50/50 methodology, already used and proven, to 500 schools (both primary and secondary) and to 48 municipal facilities spread over the different countries of the project.
This is a way of extending the European network of  schools and other public buildings in favour of energy savings and the fight against climate change.
Main objectives:
The main objective of the project is reducing energy consumption in public buildings and sharing its associated economic savings with the users of the buildings.
This project lasts three years (2013 – 2016) and during this period the aims are:
Achieving an energy consumption reduction through behavioral changes of the users combined with small measures in maintenance.

Giving the public building's managers and users an important role in proposing ideas and measures to save energy.
Raising energy awareness among the employees and users of the public buildings and going beyond the EURONET 50/50 MAX project.

Saving money that would have been spent on energy and using it to finance other projects, activities or improvements in the facility.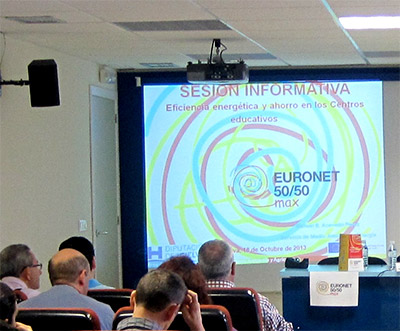 Providing the 50/50 e-pack including a set of methodological and educational materials & tools

Organising trainings for local authorities, schools and non-school public buildings involved in the project.

Creating team works between "experienced" and "learning" schools.

Running the 50/50 network aiming to boost relationships and exchange of experiences and ideas between schools and other buildings applying the 50/50 concept.

New methodological and educational materials and tools are developed to support implementation of 50/50 methodology in schools and non-school buildings.
500 schools and nearly 50 other public buildings join the 50/50 network and apply energy-saving measures.

Minimum energy-savings achieved in each building involved reach 8%.

Financial benefits resulting from implementation of energy- saving measures are equally shared between buildings' users and local authorities covering their energy bills: 50% of the savings is returned to building's users through a financial pay-out and 50% is a net saving of the local authority.

50/50 concept is widely disseminated influencing at least 100 local strategies, 16 regional strategies and 13 national strategies.

Do you want to share this project?