Andalusia Energy Agency
The Andalusian Energy Agency is a public entity belonging to the Andalusian Goverment, is attached to the Regional Ministry of Economy, Innovation, Science and Employment. It emerged as an initiative of the VII Andalusian Social agreement, in order to be a tool in favour to the social, entrepreneurial and institutional tissue of the Andalusia region to impulse the sustainable energy development in our Autonomous Community.
The Andalusian Parliament approved its creation by Law 4/2003, of 23 September, providing the Andalusian Autonomous Community with a valuable instrument to formulate proposals for energy policy, with a coherent overview of this strategic sector and with an adequate agility to the on time needs of management.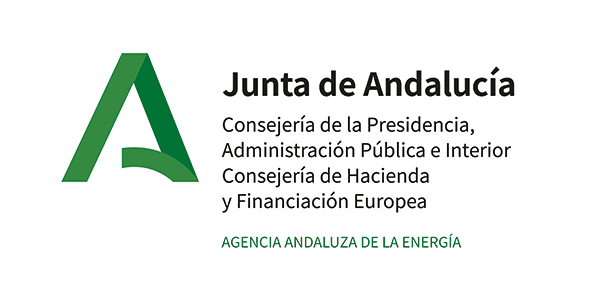 "A new Energy Model for a sustainable and inclusive regional growth"
The Andalusian Energy Agency main objective is to develop regional policies to maximize, in energy, economic and environmental terms, and the energy supply of the Autonomous Community of Andalusia.
The Andalusian Energy Agency has the following main functions:
Improving the quality of energy services in Andalusia; to collaborate on the development of infrastructures for generation, transmission and distribution, encouraging the diversification of sources and reducing harmful emissions by promoting actions on renewable energy, energy efficiency and low carbon emission technologies.

Promoting technological innovation and R & D in the Andalusian energy sector to maximize energy efficiency and therefore avoiding energy losses in public and private facilities.

Strengthen international cooperation on energy technologies.
Management of public incentives schemes of the Andalusian Regional Government on energy.

Promoting energy saving and diversification and deployment of renewable installations in buildings and installations of the Andalusian government, through the Energy Network of the Andalusian, REDEJA.

Leading the Andalusia Energy Strategy 2020 through the development of a new participatory energy model in the framework of the European Strategy for smart, sustainable and inclusive growth.
C/ Isaac Newton, 6. Isla de la Cartuja, 41092 • Sevilla

Do you want to share this member's information?