Valencian Institute for Business Competitiveness – Energy Unit
IVACE-ENERGY is a public entity attached to the Ministry of Sustainable Economy, Productive Sectors, Trade and Labour of the Regional Government of Valencia. Within IVACE, IVACE-Energy business unit has the powers to promote renewable energies and energy efficiency in the region of Valencia.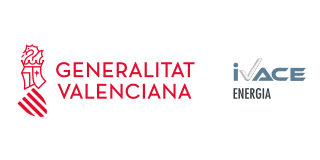 "Towards a new energy model"
IVACE-Energy's main objective is to set the foundations for a new, more just, democratic and sustainable energy model. The fundamental pillars of the new model are renewable energies together with energy saving and, in particular, the contribution of self-consumption technologies. The following actions will contribute to its achievement:
Energy saving and efficiency. To propose and implement measures to promote consumption rationalization and reduction of costs in all economic sectors.

Renewable energies. To set up actions and programs to increase the use of renewable energy resources in heating and electricity production, together with the promotion of biofuels.

Energy diversification. To foster measures and incentives to achieve a better use of the different energy sources and the use of less polluting resources.
Self-consumption. To develop support lines and plans to facilitate and favour the introduction of this technology in different economic sectors.

Use of new technologies. To establish programs and lines of research for the development and use of new technologies in the energy field.
Grants and funding. Design and management of financial instruments for energy efficiency, renewable energies projects and self-consumption.

Energy Assessment. Studies and technical assistance.

Training and research. Organization of training programs and promotion of R&D lines.
Collaboration at national and European scope. Exchange of knowledge and technologies among the countries of the European Union and participation in programs in these fields.

Information campaigns: Campaigns to promote energy efficiency in domestic sector.
Ciutat Administrativa 9 d'Octubre – Torre 2, C/ Castán Tobeñas, 77 – 46018 • Valencia

+34 961 247 903 / 961 247 904

Do you want to share this member's information?