Pamplona Municipal Energy Agency
The Municipal Energy Agency of Pamplona (AEMPA), created in 1998, is a municipal service that depends on the Strategic Projects, Mobility and Sustainability Area of Pamplona City Council.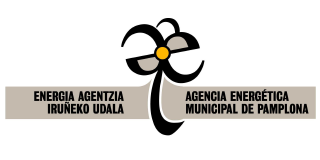 "Towards higher energy sovereignty: renewable energy, local production, selfconsumption and ensure energy supply for each citizen"
Municipal service that promotes a rational use of energy and the development of renewable energies in the city, both at the municipal level and to citizens and the private sector. To coordinate and implement the city's Energy Transition and Climate Change Strategy 2030. In which renewable energies, energy efficiency, the fight against climate change and adaptation will be developed from the following perspectives:
Municipal. Municipal management facilities.

City. Work with citizens, local economic sectors, companies and businesses, associations…
Awareness raising, education and training in all of them.
Managing current renewable energy facilities and developing new projects.

Development of European Projects linked to the energy field and the Smart Cities.

Municipal Energy Management.
Conducting studies, reports and energy audits.

Fight against energy poverty (monitoring, coordination between actors involved in the field, attention to citizens …).
Citizen awareness through informative and advertising campaigns, lectures and conferences.

Courses addressed to specific groups: school centres, technicians, merchants, etc. about energy saving and efficiency, new technologies and renewable energy.
Promotion of the AEMPA activities through local and national media.
The AEMPA has a documentation centre and provide with a personalized assessment for citizens, professionals, companies and administrations on renewable energy and energy saving.
The AEMPA advises in specific projects, from an economic, financial and administrative point of view.
Avda. del Ejercito 2, pl 9ª – 31002 Pamplona
Do you want to share this member's information?