Energy Agency of the Province of La Coruña
The Energy Agency of the Province of La Coruña was established on May 10, 2006 as a non-profit, administrative and legally independent and autonomous institution. According to the Order of July 28, 2006, it is classified as of industrial interest, ascribed to the Ministry of Innovation and Industry. On September 15, 2006, it is declared of Galician interest and ordered to be registered in the Register of Foundations of Galician Interest.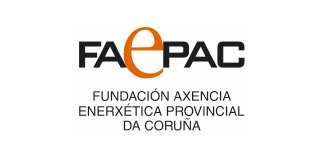 "In a very energetic province, we help you to make a rational use of it"
The main purpose of the Foundation is to improve and exploit provincial energy resources, as well as to raise awareness among local authorities, companies and citizens about the scarcity of energy resources, promotion, saving and efficient use of energy.
In addition, it has the following purposes:
Encourage the rational use of energy, local energy resources and renewable sources in the sectors of production of goods and services (SMEs and Industry), in collaboration with the public administration.

Favour the diversification, information and optimal use of renewable energies.

Promote and maintain energy savings.
Promote the integration of energy objectives in the environmental sectors and in the local productive sectors.

Protect the natural environment and reduce the impact of pollution and use of technology.

Inform, advise and raise awareness among citizens on energy consumption.
Information and advice
1. Municipal energy manager:
Control and optimization of energy billing.

Drafting of technical specifications of contracting.
Establishment of new supply requirements.
2. Free energy advice to individuals of the province of A Coruña.
Training and awareness
Citizen awareness through informative campaigns, talks, conferences and dissemination sessions.

Training of municipal technicians on saving and energy efficiency, new technologies, renewable energies and efficient conduction courses.

Dissemination through the media.
Studies and projects
Promotion of electric, hybrid and gas vehicles.

Urban and rural mobility plans.

Energy Poverty Reduction Project.

Participation in ERASMUS + projects.

Participation in H2020 European projects.
C/ Alcalde José Vilaboy Pajón, s/n, 15320, As Pontes de García Rodríguez • A Coruña

Do you want to share this member's information?