Regional Energy Agency of Castilla y León
EREN was established under the Law 7/1996, as a public entity subject to private law, attached to the Ministry of Economy and Finance of the Regional Castilla y León Government, to plan and develop the regional energy policy on renewable energy sources and of energy efficiency.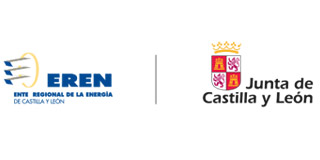 "We believe in an energy self-sufficient region, committed to renewable energies and a rational energy consumption"
Contribute for a competitive and balanced energy system.

Control and reduce the energy intensity.

Reduce the environmental impact comes from energy consumption.

Decrease foreign energy dependence through energy security supply.
Promote energy diversification.

Improve the security and quality of the different energy technologies´ supply.

Increase the share of renewable energies to energy production.
Innovative financing schemes implementation for energy efficiency, cogeneration and renewable energy projects.

Preparation of energy planning of the Autonomous Community.

Managing energy regional subsidies.

Energy advicing to SMEs, industry and other activity sectors.

Coordination and technical advisor to implement energy actions in installations of all ministries of the regional government.
Information and energy programs focus on citizens and training for professionals.

Advice to provincial and local public entities or other public entities in the region (Universities, Foundations,…).

Competent entity for management the Register of Building Energy Certification.

Participation in energy European projects.
Avenida de los Reyes Leoneses, 11 (Edificio EREN), 24008 • León

Do you want to share this member's information?