Local Energy and Climate Change Agency of Murcia
ALEM, Local Energy and Climate Change Agency of Murcia, was founded in 2008 as a European Consortium of Energy Agencies within the framework of the Intelligent Energy – Europe (IEE) programme of the European Commission. In 2012 ALEM was fully integrated into the municipal structure of Murcia City Council. At the moment it is a Municipal Service depending on the Department of Urbanism, Environment and Orchards Culture.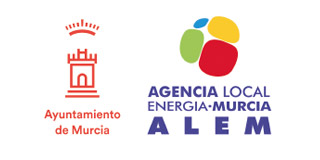 "Energy and much more..."
To encourage responsible energy consumption through the promotion of energy efficiency and the use of renewable and alternative energy resources.

To guide Municipal action for an adaptation and mitigation to the Climate Change effects.
Sustainable Mobility: To actively contribute to the promotion of sustainable means of transport such as bicycle, walking and electric vehicle.

Boost citizen awareness in relation to energy consumption, the need to use renewable energy sources and sustainable means of transport.
Municipal energy consumption
Renewable energy resources.

Energy studies and publications.

Participation in energy projects at national, European and international level.

Promotion of the use of biomass.
Reports and energy audits.

Municipal Energy Performance Certificates.

Management of the Covenant of Mayors, the local strategy created in compliance with the European Initiative, Mayors Adapt.

Leading of the Energy Group in RECI, the Spanish Network of Intelligent Cities.
Efficient transport and urban mobility
Advisory entity in the PMUS of Murcia.

Implementation and monitoring of the Local Strategy of the Electric Vehicle of the Municipality of Murcia.
Carry out activities and events for the promotion of sustainable mobility.

Active participation in European networks for sustainable mobility such as CIVINET or EUROCITIES.
Carry out activities such as the Municipal emissions data inventory or the carbon footprint.

Design and implement the Plan for the Adaptation and Mitigation of Climate Change.
Develop actions, workshops and events to combat Climate Change and to involve citizens as Climathon.
Sustainable urban planning and construction
Energy saving in municipal buildings.
Energy efficiency technical support to the municipal organisation.
Training, public awareness and public sensitivity
Technical assistance, training courses, public awareness campaigns and publication of results in the media.
C/ Azarbe del Papel 22, 2ª planta, 30007 • Murcia

Do you want to share this member's information?