Municipal Energy Agency Valladolid
The Municipal Energy Agency of Valladolid (AEMVA) was established in 1995 within the Environment Service of the City Council of Valladolid.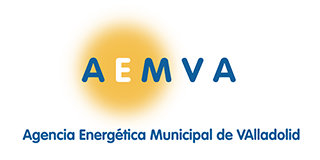 "We deal with energy for sustainable development"
The AEMVA (Municipal Energy Agency of Valladolid), drawn in the Environment Service is the branch of the City of Valladolid, which aims to promote actions to achieve efficiency savings and rational use of energy.
Its objectives include the involvement of the Council in the energy saving, promoting mainly renewable energy and informing, advising and raising awareness among citizens in the planning and control of their energy projects.
Energy saving and efficiency: Optimization of municipal energy consumption and costs.

Renewable energy: Development of endogenous energy in the municipality.

Training: Actions aimed at changing behavior patterns based on plans of sustainability.

Distribution and promotion: Disclosure of technological developments and regulations on energy efficiency.
International projects: Technological transfer and cooperation with Community Energy Agencies to carry out innovative actions in the field of application of RES, energy saving and efficiency and urban mobility.

Institutional support: Technical support for energy efficiency in municipal organization.
Pº del Hospital Militar, 11bis, 47007 • Valladolid

Do you want to share this member's information?