Energy Agency of the Province of Cádiz
Nonprofit foundation created and funded by the Provincial Government of Cádiz in 2006, working as technical and management tool at the service of municipalities and the Provincial Government of Cádiz.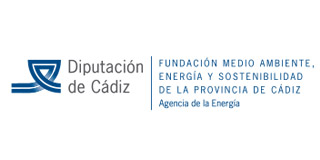 To promote, develop, manage and coordinate actions to increase energy efficiency.

Raise awareness of sustainable development.

Efficient energy management in buildings and facilities of the Provincial Government and the municipalities of the Province.
Energy management at Provincial Government facilities and collaboration with municipalities in energy consumption monitoring. Building Energy Certification of the Provincial Government and the Municipalities upon request.

Technical support, project management, site management, etc., of the different energy actions performed by the Provincial Government.

Behavior change and awareness raising among the specific target groups as well as of the general public through actions such as education, training courses, collaboration with local media and workshops on topics dealing with the energy efficiency and renewable energy, concrete measures, climate change and so forth.
To inform citizens, public entities and private agents, about regional, national and European grants and financing programs in energy and environment, and includes the management of these to public entities and the institutional support in energy.

Green public procurement promotion among local administrations and other entities in the Province, including capacity building workshops aimed to municipal authorities and technical support for the inclusion of environmental criteria on public procurement processes.
Plaza de Capuchinos, nº3 Bajo Izqda., 11002 • Cádiz

+34 956 292 202 / 956 205 968

Do you want to share this member's information?